Champion for Women in Computer Science Retires
Jandelyn Plane was unsure of her ultimate career path when she began teaching at the University of Maryland in 1990, but knew that it would include two of her passions—computing and increasing the number of women pursuing a career in technology.
Originally hired as an instructor in the Department of Computer Science (CS), Plane saw firsthand the challenges that lay ahead. The national average for women studying computer science at the time was stagnant at about 15 percent. At UMD, the figures were even lower, hovering in the single digits.
Over the next three decades, Plane forged ahead in advocating for greater participation of women in computing at UMD and abroad, developing programs that ultimately made Maryland a national leader in women studying computer science.
Plane was offered an unexpected opportunity to teach in Rwanda in 2000, so she applied for a passport and took off to the war-torn country. Her one-month course turned into six years of involvement, with Plane teaching in person and remotely while developing a computer science department there.
In 2005, she joined another project in sub-Saharan Africa to build a computer science master's program by linking up resources between six universities in the region. The following year, Plane was recruited to improve the computer science degree program at Kabul University in Afghanistan by working with professors to help them earn advanced degrees over a five-year period.
Pursuing her Ph.D. in the College of Education at the time, Plane was so inspired by the project that it became the focus of her doctoral thesis on gender parity of women in computer science. Her multi-method study of focus groups, surveys and interviews gave her the necessary insight to drive her mission forward at home.
While in Kabul, Plane learned a Dari proverb that became her guiding philosophy: "Qatra qatra darya Maisha," which means "Drop by drop a river is formed."
"The only way to have a big impact is to put your drop in. The more drops you put in, the more drops other people put in and then a river flows," Plane explains. "It might sound small at first, but I feel the biggest legacy is the impact on individual students. After all these years, the river does seem to be flowing and continuing to pick up momentum."
Now having retired after 32 years of teaching at UMD, Plane—known as "Dr. Jan" to students and colleagues—is reflecting on the ebb and flow of her momentum at Maryland.
Today, the university boasts one of the largest numbers of women computer science undergraduates in the nation at 24 percent—almost 800 students.
"Thanks to Jan's efforts, we can say that our program is a leader in advancing equity in computer science," says Matthias Zwicker, CS chair. "Her relentless efforts to uplift women and underrepresented students in computing at our university are truly unparalleled."
UMD has a slew of support programs specifically focused on recruiting, retaining and advancing underrepresented students majoring in computer science. Much of these activities are a direct result of the work put forth by Plane and others she has recruited along the way.
One of Plane's innovations is CompSciConnect, a three-year summer camp for middle schoolers intended to spark an interest in computing and technology at an early age, especially among girls.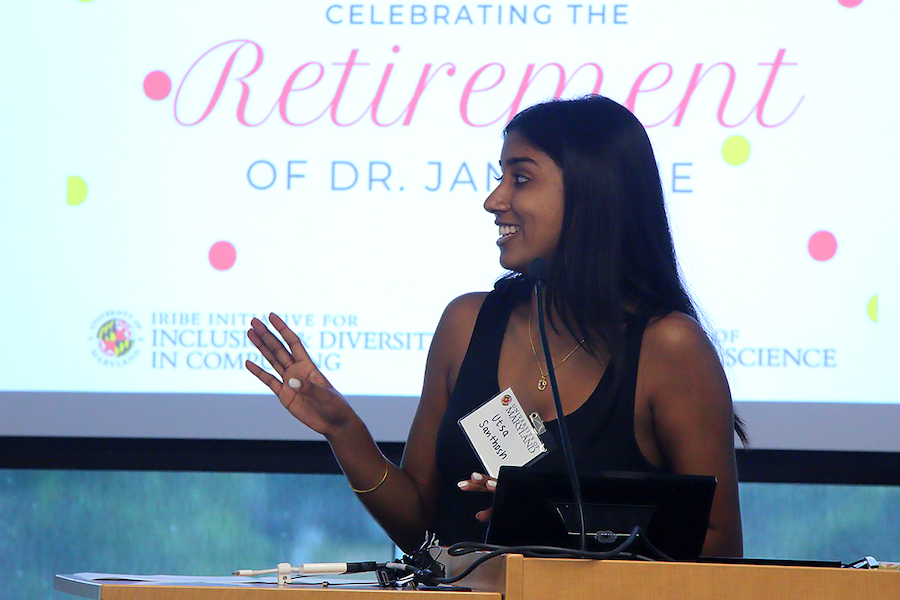 The program receives hundreds applicants every summer, and the small fraction who are selected participate for three years. One of the students from that first group in 2012, Utsa Santhosh (pictured right), graduated from UMD this May with her B.S. in computer science.
"Dr. Jan has really been one of the great constants in my life," Santhosh said at Plane's retirement celebration on May 19. "From being in CompSciConnect as a middle school student to being a teaching assistant for summer camps as a high school student, to being an undergrad here in CS the past four years—Dr. Jan has supported me and believed in me every step of the way. I know I would not be here without her."
After several successful years of running CompSciConnect, Plane said it became clear that there was a need for a focal point to combine the camp and other activities that supported women in computing.
She strongly advocated her case, and with support from the CS department, the University of Maryland Institute for Advanced Computer Studies and the dean's office in the College of Computer, Mathematical and Natural Sciences, the Maryland Center for Women in Computing was launched in 2014.
At the center's official launch event, Plane and her students met Brendan Iribe, an alum who co-founded virtual reality company Oculus with friends he met at UMD.
Iribe was so impressed by the students in CompSciConnect that he donated $500K to double the size of the program. That was followed by a $1 million gift in 2019 to establish the Iribe Initiative for Inclusion and Diversity in Computing (I4C).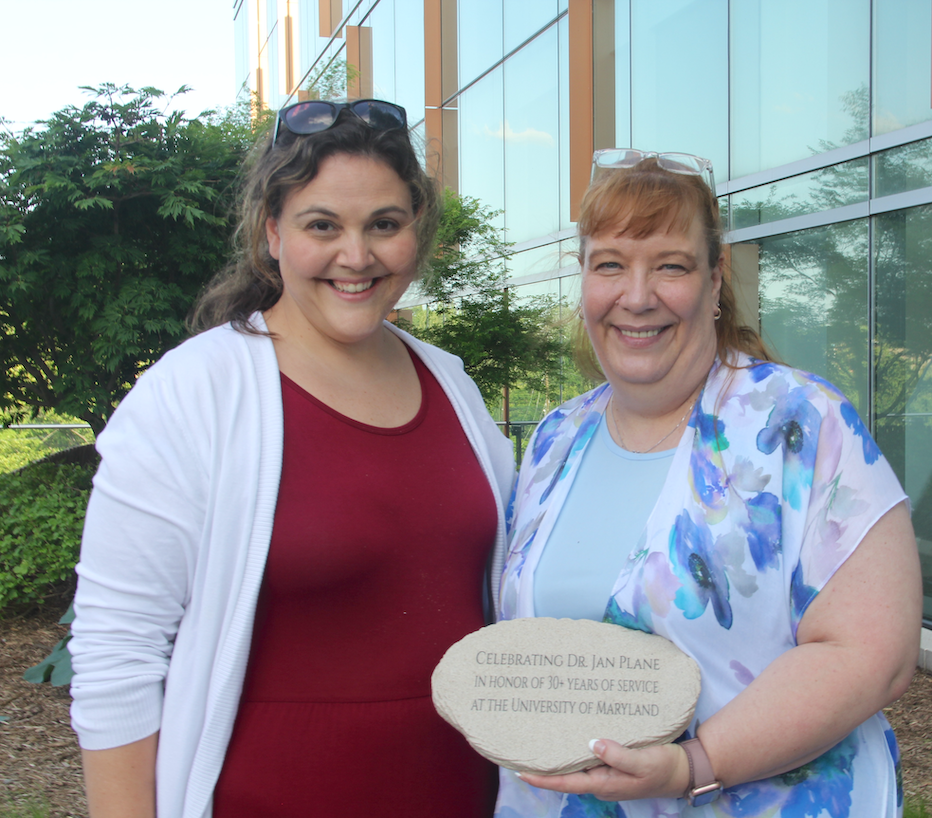 I4C's mission is to further diversify the tech sector and make all areas of computing inclusive, says Kate Atchison, the program's associate director. Atchison (left in photo) and her staff run about 13 summer camp sessions, serving 300 K-12 students.
I4C also sponsors tutoring, workshops and hackathons like Technica, the world's largest all-women and nonbinary hackathon, held annually on campus.
Although Plane is retiring from UMD, she will join the computer science department as an associate professor at Ripon College in Wisconsin this fall, where she plans to build up their computing majors.
Returning to her roots, Plane and her husband will be the second of three generations living on the original homestead of her family's farm, along with Plane's mother and son.
Plane is already in the process of reaching another underrepresented population in computer science—the children of rural northern Wisconsin—by helping a local chapter of the Boys & Girls Club of America bring computing to their summer camps.
Plane says she has no worries about leaving Maryland because she knows that the programs she helped build have a sturdy foundation, passionate staff, and solid resources to continue to thrive.
"I know that we're moving in the right direction, and I really feel it can continue to grow and keep the mission going," she says. "Our staff is all in for supporting both current students and the K–12 pipeline into computing. When you've got a dedicated staff like this, there's no telling how far it can go."
—This article was written by Maria Herd and adapted from a news release by Katie Bemb.